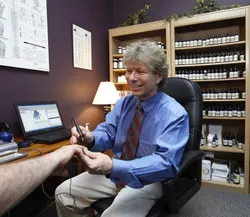 Dr. Steve Stewart is a Graduate of the University of Western Ontario
(Anatomy &Physiology) 1980. He has a Diploma in Histo-Technology from Fanshawe College 1988. He worked in Pathology at University Hospital for 10 yrs as a Pathology Technologist specializing in Autopsy and Surgical Services.
He Graduated in Traditional Chinese Medicine from the Canadian College of Acupuncture and Complimentary Medicine in 2003. He received his PHD in Holistic Medicine from University of Canberra in Australia in July 2005
He received his Diploma from the Traditional Chinese Veterinary Medicine in Canine and Equine Acupuncture and Tui Na in May 2010. He has been in the Martial Arts for close to 40 years and is the Highest Ranked Black Belt in American Kenpo and Kyusho Jitsu (Pressure Points) in Canada. He was a former Martial Arts competitor who competed on the circuit from 1974 to 1980 in both Forms and Sparring. He was a Member of the Worldwide Kenpo Karate Demonstration Team from 1996 to 2002 and performed internationally at Martial Arts Events
He is a sought out individual who speaks about Health and Wellness and conducts Martial Arts Seminars in Europe, USA, and Australia.
He has been a part of the Chiropractic Wellness team since October 2004
His services at the Centre include Laser Acupuncture, Homeopathic, EAV Testing (Organ Point Testing), and using bodily fluids to calibrate the extent of some underlying causative factors that could be potentially affecting your health.